Video Poker is a brilliant casino game with a really low house edge that offers players a great chance to win. Here we take a look at how to play video poker, as well as offering a look at strategy, tips and the overall odds.
Our guide is also an excellent introduction to poker for those players wanting the thrill of the famous card game without fear of being intimidated by other players and the more intricate points of the multi-player version.
Many casino enthusiasts enjoy playing video poker as it includes an element of luck but it also allows players to show some skills and change the course of the game. Just like slots, there is the randomness of getting cards that you cannot predict. On the other hand, you must be well aware of the winning hands on classic poker, so that you can get the best possible combination and sweep great payouts.
Once you have gained some experience playing video poker, you can even try several progressive options which are available at numerous online casinos. This way you will have the opportunity to rack up generous payouts and enjoy a thrilling and rewarding video poker experience.
How and When Video Poker Emerged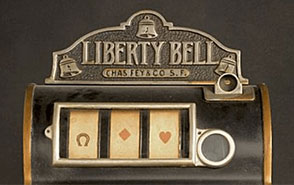 It was actually the invention of slot machines what, later on, led to the existence of video poker. Charles Fey was the man who created the famous Liberty Bell Slot Machines which quickly become extremely popular among casino fans during the 1800's. Throughout the years Fey worked on improving the slot machine and in 1901 he decided to include the "Draw" option to his invention. Thanks to this feature players had the chance to hold some of the drums for their next spin. This meant that the outcome of the spinning drums did not depend solely on luck anymore but the players' decision would also affect the results. This was the beginning of what inspired the game that would, later on, become popular as video poker.
At that time, the game would use only 50 playing cards, excluding Ten of Spades and Jack of Hearts. This meant that the odds of winning were reduced but this does not affect the popularity of the game and it led to the further development of what is known today as video poker.
In the beginning of 1900's Fey's slot machines with the additional draw feature became very popular and inspired other companies to dive into the same business. The Brooklyn company, Sittman and Pitt, was known as the manufacturer of the best draw slot machines across the US. Poker was already an extremely popular game and the draw option of these slot machines is the reason why they could be seen in almost every liquor or cigarette shop.
Back in the days, the prizes awarded by these machines were in the form of drinks, cigars or even packs of gum. This was due to the law that forbade slot winners to be awarded cash. As the years passed by and the laws and technology changed, video poker machines started promising better prizes and became even more intricate and rewarding.
1975 was the year that introduced the first electronic slot machine to the public. It did not enjoy a huge success but thankfully, it was changed to a Draw Poker machine. In to time, the game became very popular among casino enthusiasts and thanks to the monitor that it utilised, players could see their cards and pick whether to raise, draw or call, just like they would in classic poker.
With the launch of online casinos, the next step for the popular game was to appear at gambling websites. Since video poker enjoyed a huge popularity at land-based casinos around the world it is only natural that nowadays there is hardly an interactive casino that does not offer the game. Online players have the great opportunity to choose from numerous video poker variations and pick the one that can bring them the most fruitful results.
Video Poker Rules and Objective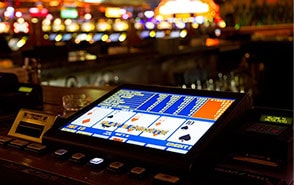 There are almost countless variations of video poker but they are all based on the same core rules and by far the most common type of video poker, especially when playing on mobile, is Jacks or Better. The game is a single-player version of five card draw poker and rather than having to beat the casino, the player is rewarded for the strength of the hand he or she achieves, with some form of payout usually being granted for a pair of jacks or better.
Five cards are dealt face up and the player can choose to either change all five, keep all of the original cards, or just change some of them. Hands are paid according to the game's pay table (which relates to traditional poker hands) and based on how many coins the player staked, with the decision to bet between one and five coins having been made prior to the deal.
As there are plenty of different versions of video poker, the payout may be different for some hands. This is why you should check the paytable of the game you have chosen. What is more, there are some video poker variants that have wild cards. This means that some hands may pay differently if they are formed naturally or with the help of a wild card. One thing that does not change, however, is the objective of the game. You always have to make a decision whether to keep or discard your cards in order to form a winning hand.
All that is needed to get going with video poker is knowledge of the winning hands, which are listed below under the odds and strategy section.
Casino Odds in Video Poker
Video poker has a very low house edge and that, combined with the possibility of big wins and the simplicity of the game, is what has helped make it so popular. The house edge varies according to the exact version of the game being played but a mark of around 0.5% is not uncommon, making it comparable with blackjack.
Like blackjack, there is an optimum strategy that guarantees the lowest house edge possible and gives you the best chance of winning but it is slightly more complex than the so-called basic strategy of blackjack, although simpler versions are worth using with little sacrificed in terms of house edge.
Before we take a look at the strategy, let's first run through the winning hands and what they normally pay (based on a single coin bet).
Royal Flush – 10 to Ace of the same suit, pays 250 coins
Straight Flush – Five consecutive cards of the same suit, pays 50 coins
Four of a Kind – Four cards of the same value, pays 25 coins
Full House – Three cards of the same value AND a pair, pays 9 coins
Flush – Five cards of the same suit, pays 6 coins
Straight – Five cards of consecutive numbers, e.g. 4-5-6-7-8, pays 4 coins
Three of a Kind – E.g. 3 jacks, pays 3 coins
Two Pairs – Pays 2 coins
Pair of Jacks or Higher – Pays 1 coin
Whilst we have said that video poker has a very low house edge, it can actually have a negative edge at times, that is to say, it actually favours the player from a probabilistic perspective. Almost all forms of video poker pay a significant bonus when a player uses the maximum five coins and hits a straight flush. For example, the payout for all other hands is proportionate to the increased number of coins staked, so a flush pays 6 coins to a single coin bet, then 12, 18, 24 and 30 for a five coin bet. However, whilst a royal flush pays 250 for a single coin wager and 1000 for four coins, it may often pay up to 4000 coins for a full five coin bet.
This, along with the most generous rules video poker can offer can, especially when combined with VIP schemes or loyalty bonuses, produce a small advantage to the player. Whilst the chances of hitting that all-important royal flush remain tiny, the huge reward granted to a player staking five coins, means video poker is one of the best games in the casino in terms of your chances of earning a profit over the long-term.
When we are talking about profits it is important to mention the term Return to Player (RTP). Simply said, the RTP percentage indicates what is the average estimated amount players will receive back for their bets. Let us assume that the RTP of the game you have decided to play is 90%. This would mean that, on average, for every 1$ that you wager, you will be rewarded with 90 cents.
You might come across video poker variations that offer a sweeping RTP of 99% which promises huge possible wins. This definitely is one of the reasons why a lot of players enjoy playing this casino game. What is even better is the fact that players who use the right type of strategy have the chance to increase the RTP beyond 100% which is definitely something that other casino games will not be able to offer.
Full-Pay Video Poker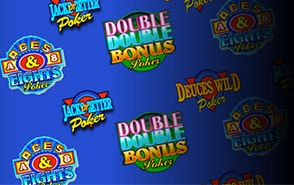 If you are expecting great payouts, it is not enough to use a proper strategy. What is advised for those who are on the lookout for massive payouts is to choose full-pay video poker variants. You can easily understand whether a game is full-pay by checking its paytable. Just one look at the payout for full house, flush and sometimes straight can tell you if the game you are about to play is a full-pay variant.
Let us take one of the most popular video poker variations for an example. If you use the right strategy and pick a full-pay version of Jack or Better, you can actually enjoy an RTP of 99,54%. It is recommended to play a Jacks or Better variant that pays 9/6. This means that when you go to the paytable of the game, full house should pay 9 to 1, while flush should pay 6 to 1. If you come across such variant of the game, do not waste time and start playing.
If you opt for playing video poker with bonus rounds, the full-pay option would be the one with an 8/5 payout. This means that you should check the paytable yet again for the full house and flush hands. The former must pay 8 to 1, while the latter should pay 5 to 1. It is estimated that the RTP of bonus round video poker with a payout of 8/5 might reach 99,2%.
If you have been playing video poker for some time, then you might have heard of video poker variations that can actually offer an RTP of 100,2% which would tilt the scales in favour of players. If you are interested to try such variant, then you should look for a game which pays 10/7/5. This type of video poker would offer a payout of 10 to 1 for full house, 7 to 1 for flush and 5 to 1 for straight.
Another video poker variant that offers an RTP of 100,1% is the one with double bonuses. This indicates that there is no house edge, i.e. the odds are in favour of players. It should be noted that this RTP can be achieved only when you use the ultimate strategy and make no mistakes. The full-pay version of this game pays 10 to 1 for full house and 6 to 1 for flush.
If you come across video poker variants that do not offer the aforementioned payouts, then you have stumbled upon what is known as short-pay game. Although it may take some time to find full-pay video poker options, it is definitely worth it to play when you know that you will receive the best possible pay.
Beginner Tips for Improving Winning Odds in Video Poker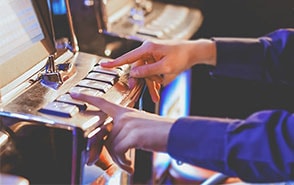 As it was previously mentioned, choosing a full-pay variant can help you improve your odds in video poker. This being said, it is also important to use the right strategy which will help you form a winning hand. There are also several other factors that can help you enjoy better chances of winning.
Pay attention to the variant you are playing. Since there are numerous video poker variations, sometimes the winning hands may vary from the ones you are used to. You can take for example Jacks or Better, where the lowest paying hand is a pair of Jacks, while in Joker Poker the least you will be paid will be for a pair of Kings.
Another key factor is also whether you are playing with wilds or not. As wild cards can give players better chances to form winning hands, you will notice that you will have to get much better hands to get paid, compared to the paying hands of other video poker variants.
One of the best perks of playing at an online casino is using the promotions it offers. So if you can use any bonus for your video poker game, you might sweep major wins using your bonus funds. This way you can enjoy a very fruitful gambling adventure and stack up great wins.
If you are chasing big payouts, you can try playing progressive video poker. This way you will have the chance to sweep amazing wins and the bigger the progressive jackpot is, the better the possibility of major payouts is. The only thing you should keep in mind is that you are eligible to receive the progressive jackpot only if you bet the maximum amount coins. You should also check the paytables of such video poker since it will not be beneficial to play a short-pay game.
Video Poker Advanced Winning Strategies and Techniques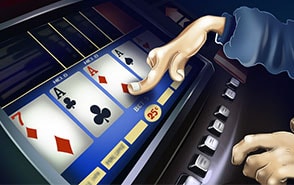 All the different game variants have slightly different strategies in order to extract the lowest possible house edge from the casino but here we will consider Jacks or Better, simply, as said, because it is by far the most common version of video poker, especially for those playing on their mobile.
The fundamental principle is that because the higher hands pay off so much better than the lower ones, you are usually better taking the smaller chance of making the better hands. However, the one most basic principle that you must ALWAYS remember is to ALWAYS play the maximum coins as the bonus for the royal flush improves your overall chances significantly.
The strategy that you can use will differ depending on the video poker option that you are playing. However, there are some simple rules that apply to the value of different cards. For instance, if you play Jacks or Better, High cards such as Jack, Queen, King and Ace are often held because when players manage to get a pair of high cards, they receive their original bet.
Video poker strategy can be formed either around the idea of hitting the high-paying hands such as royal flushes or you can aim for winnings as many hands as possible, regardless of their value. You can find different video poker charts online which can help you make the ultimate decision when you are playing video poker. This way you can improve your odds and sweep pretty generous payouts.
Interesting Variations of Video Poker
If you are interested in video poker, then you can start your journey by playing some of the classics in this genre. You can revel in great payouts and enjoy your time to the fullest with the following video poker variations.
Jacks or Better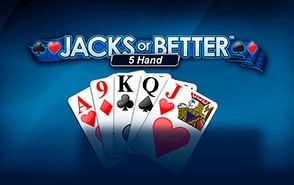 One of the most popular variations of video poker is Jacks or Better. It is very similar to Five Card Draw and many players enjoy the game as it offers some of the best odds out there. Just as it is with any other video poker game, the main goal is to form a winning hand by holding or discarding the cards you are dealt at the beginning of the game. The intricate thing about this game is that you must have a pair of Jacks or higher-valued hand to enjoy a payout.
There are several specifics that you might want to memorise if you are playing Jacks or Better and you want to use the best strategy. Since royal flash is the highest paying hand, it is obvious that you should not discard any cards if you were dealt this hand. If you happen to have flush, straight flush, four of a kind, straight or full house, you should also keep all of your cards. If after the first dealing you have four cards to royal flush, you should replace the card which may help you form the hand. The same action applies for the cases when you are holding four to straight flush, four to flush, four to straight or two pairs. The advice for the situation when you are holding three of a kind or three to straight flush is to draw two cards. If you are holding a pair, it is advised you draw three cards. Lastly, the optimal action, if you have just a single high card, is to discard the other four.
Deuces Wild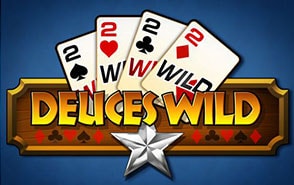 As the name of this video poker variation suggests, players should pay attention to how many deuces they have in their hand as 2s play the role of wilds in the game. This way you can achieve a winning hand a lot easier and enjoy fruitful results.
In cases when you are holding one deuce and four cards that cannot form any hand, you should discard anything but the deuce. When you are holding two deuces, the strategy becomes a tad more complicated and you have to make a decision which will help you form the best hand. Usually, players should have at least two pairs, one pair of Kings or a pair of Aces to be paid. If you came across a full-pay version of Deuces Wild and you use the right type of strategy, the theoretical RTP can surpass 100%. To find a full-pay version of Deuces Wild, the payout for five of a kind should be 15 to 1, while the straight flush should pay 9 to 1.
Progressive Video Poker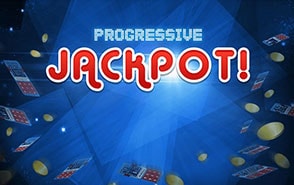 Progressive video slots give players the opportunity to enjoy an extremely rewarding gambling adventure and sweep a constantly growing jackpot. You can sweep the progressive jackpot if you make a maximum bet and land a royal flush. There are Jacks or Better, Double Bonus and other video poker variations that offer a progressive prize.
You might have already figured out that you will have to base your playing strategy on the goal of achieving a royal flush as it is the only hand that will award the massive jackpot. If you, however, do not feel ready to make the maximum bet, you can always opt for playing with a different strategy and try getting a winning hand, regardless of its rank.
One thing you should pay attention to when you are choosing a progressive video poker game is the payouts it offers. Full-pay variants are the best as they can bring you the best jackpot for making a maximum bet and getting a royal flush.
Conclusion
Players who do not like the idea of simply relying on their luck would enjoy video poker a lot as it will allow them to demonstrate their poker skills. One of the reasons why many casino fans prefer this game to others is the fact that it has pretty good odds that can often be further improved by using ultimate strategies.
If you are expecting a rewarding gambling, you should always opt for full-pay video poker options and you may even find games that offer an RTP that surpasses 100%. As online casinos become widely accessible, nowadays, players have an even easier time finding the best video poker version and they can easily sweep massive payouts using strategies.