Technology has gone a long way in the last decades and all betting aficionados can do is reap the benefits of the latest advancements in the gambling industry. It all started with the rise of online casinos in the mid 1990s. Soon after the launch of the first web-based casinos, they gained immense popularity among players as they offered them a higher level of convenience and granted them access to hundreds of games they could play from the comfort of their surroundings.
But it did not stop there. In the past decade, mobile devices became rather widespread which resulted in the birth of the first mobile-friendly casinos. It did not take long for gambling operators to recognize the great potential of gaming on the go and we are currently witnessing the results of this realization – the mobile casino market is more competitive than ever, with new casinos going mobile on a regular basis.
Players from the USA have also jumped on the bandwagon and many of them are transitioning from desktop to mobile play. Ubiquitous online gambling regulations are yet to be introduced in the country but many offshore mobile casinos would still welcome real-money action from players from the USA. This enables gambling mavens from this jurisdiction to make bets and potentially bag real-money prizes on their favourite slots or table games from any location they deem fitting.
The following contains valuable information on USA mobile casinos' accessibility, promotions, game selection, supported banking methods, and security you might want to familiarize yourself with before you are sucked into the exciting adventure gambling on the go offers.
Top 5 USA-Friendly Mobile Casinos
While the enforcement of the UIGEA drove away some of the largest gambling operators and software suppliers from the US market, many decided to stay and continue servicing players from this jurisdiction. The majority of US-friendly casinos would utilize software, supplied by reputable developers like RealTime Gaming, Rival, Betsoft, Parlay Games, NuWorks, and WGS Technologies (formerly known as Vegas Technologies).
There is still a broad choice of US mobile casinos and some players find it difficult to select one out of so many options. To assists US players in making a better-informed decision, we have shortlisted five of the best US-friendly casinos that are accessible on the go. If you have a penchant for gambling and are based in the USA, we suggest you go through the overviews below so you can feel confident you have made the best choice.
What are USA Mobile Casinos and How to Access Them?
So, how mobile casinos differ from their desktop counterparts? By definition, mobile casinos are the place where you can stake real money on games of chance or skill by utilizing portable devices like smartphones and tablets. The truth of the matter is mobile casinos are quite similar to their desktop cousins, the biggest difference between the two being the higher level of convenience and flexibility that comes with gaming on the move.
USA mobile casinos offer players from the country a vast choice of top-shelf games they can engage in while lounging in their comfy bed, during their morning commute, or while they are anywhere outside their homes.
A few words on the legality of mobile casinos in the USA. It should be mentioned that there is currently no ubiquitous federal legislation pertaining to virtual casinos in this jurisdiction since each US state has the right to determine its own laws on online gambling. Delaware, Pennsylvania, Oregon, New Jersey, and Nevada are by far the states which have introduced regulations on specific forms of online gambling.
While this partially acts as a detriment to US players, mobile gambling operators that are regulated and licensed under other jurisdictions are more than willing to welcome registrations from the United States. That being said, US players have nothing to worry about because they are not persecuted for gambling on the go at foreign-based mobile casinos. In reality, banking institutions in the country are simply prohibited from processing real-money transfers to offshore interactive casinos because of the UIGEA (Unlawful Internet Gambling Enforcement Act) of 2006.
Generally, there are two ways to access and play at US-friendly mobile casinos, the first one being loading your preferred gambling operator's website in the browser of your phone or tablet. Many US players deem this method preferable since the only requirement for them to play is to have a reliable internet connection on the go.
The second option is to check whether your mobile casino of choice offers a dedicated application, compatible with the OS of your smartphone or tablet. Due to the restrictions on online gambling in the United States, local players may not be able to download real-money casino apps from the official App Store and use them on their iPads or iPhones. This is a minuscule setback, though, since native applications can usually be downloaded from the websites of mobile casinos at no cost.
Once you access your preferred mobile casino (either via an app or in your browser), you need to set up a real-money account, but of course, many gambling operators would support demo play where the players can try the games by using play money.
Registering an account on the go is hassle-free and takes less than a minute. Then you verify the account by providing the necessary documentation and visit the mobile casino's banking page to initiate a deposit. You select one of the US-friendly banking options, fill in the details, and follow the instructions to complete the money transfer. In a few seconds, you will be able to jump right into the action with real-money bets.
USA Mobile Casinos Compatibility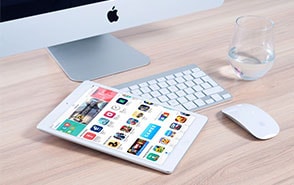 Since gaming on the go is now more popular than ever, US-friendly mobile casinos are designed to work on a vast range of handsets and operating systems. If you own a smartphone or a tablet, you will not experience problems finding a casino that is compatible with your device.
Since Android has assumed the mantle of a leading mobile operating system in the world, it is only natural that most, if not all, mobile casinos have been optimized to run seamlessly on this platform. What is more, there are many brands of portable devices that have adopted this operating system, including LG, Sony, Samsung, Motorola, Huawei, OnePlus, and many others.
US players who own Nokia smartphones can also join the betting action on the go. Nokia discontinued its proprietary operating system Symbian back in 2012 but made a comeback on the global smartphone market by adopting the Android OS. The same applies to another popular mobile brand, Blackberry, which also ditched its OS in favour of Android. The bottom line is US players who own Nokia or Blackberry devices are unlikely to struggle with finding a responsive mobile casino. Windows Phone users can also access mobile-friendly casinos via their browsers.
The iOS ranks right behind Android in terms of usage and popularity on a global scale, which is why many gambling operators would support play on iPads and iPhones. In fact, the iOS is among the most commonly used mobile platforms in the United States so those who own an Apple device can easily find a US casino that works on it.
The downloadable mobile apps have different specifications that would differ between US mobile casinos. Some gambling operators offer applications that would work on older versions of Android like 4.0 Ice Cream Sandwich while others would require more recent versions of the popular operating system like 5.0 Lollipop or above. The same is valid in full force for iOS native applications since some have been designed for the older platforms like iOS 4.3 while others have been optimized for devices running on iOS 6.0 or later.
Players who choose to gamble in their browsers are recommended to keep them updated to ensure a smooth gameplay. Speaking of browsers, US-friendly mobile casinos would normally work on Chrome, Firefox, Microsoft Edge, Safari, and Opera.
Game Selection at USA Mobile Casinos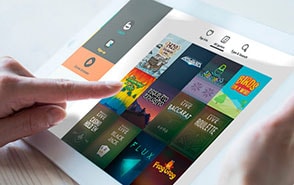 One of the greatest benefits that come with mobile casinos is that they grant US players access to a wealth of gaming options. Why bother driving around in search of a brick-and-mortar gambling venue when you can carry the entire casino floor in your pocket? This may sound like a far-stretched statement but it is not.
Mobile casinos that are friendly to players from the US are home to an immense diversity of top-notch games but it is the slots that are available in especially impressive numbers. US players can choose from hundreds of slot titles and each one has a different theme and features. There are the old-school classic games with three reels that take you back to the past when one-arm bandits ruled over the casino floors in Las Vegas, Reno, and Atlantic City.
You can also make a pick from a great variety of advanced video slots with 3D graphics and animations, immersive audio effects, multiple lines to win on, and a plethora of useful features that increase profitability. Many casinos that accept mobile play from the US would also feature slots with progressive jackpots that can make a lucky player a millionaire in a split second.
Table games on offer include different variations of classics like blackjack, roulette, baccarat, craps, and casino poker. You do not have to fret over setting up a big enough bankroll for your first betting session since there are tables with different maximum and minimum limits to aid both recreational players and high rollers.
The audio and graphics are expertly rendered so that the games successfully recapture the atmosphere of landbased gambling establishments. The interface is readily understandable even by those who have never set a foot in a casino. Some US-friendly casinos even have special sections dedicated to live games where the action is handled by real dealers and is broadcast via a high-quality stream to one's mobile device.
Players from this jurisdiction will not be let down by the video poker offering at mobile casinos, either. Video poker is quite popular among casino fans from this country as it is one of the few games to offer positive expectation. You get to play a range of variations like Bonus Poker, Aces and Eights, Jacks or Better, Deuces Wild, and of course, American Poker. Those who are completely clueless about gambling can try out some of the lottery-style games like Keno or scratchcards.
Supported Banking Methods at USA Mobile Casinos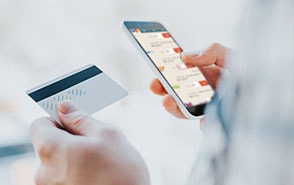 The enforcement of the UIGEA in 2006 became a detriment for US players since it prohibited banks based in the country from processing real-money payments to offshore gambling operators. Because of this, finding a method to top up one's casino account from the US may be a bit difficult because sometimes the transactions cannot go through.
Many casino fans who are permanently domiciled on US soil prefer to use their cards. Cards issued by Visa, MasterCard, and American Express are among the most widespread options for players from the country. The majority of mobile casinos that welcome play from the country accept cards by the aforementioned brands.
Due to the restrictions imposed by the UIGEA, casino lovers who attempt to transfer money to their accounts with credits cards often have their payments declined. Some companies like MasterCard, for example, have gone as far as manually auditing their US card transactions in order to block payments to foreign gambling operators. The solution to this problem is simple, though. Both Visa and MasterCard offer prepaid solutions that are a great alternative for US players looking to bet real money on the go.
We are talking about prepaid gift cards which are more difficult to block since they are not linked to a specific address or account. Also, these prepaid solutions come with the additional benefit of preventing players from overspending. Note that sometimes US players still manage to successfully process payments even with their credit or debit cards but it is usually a hit-or-miss situation.
The UIGEA has forced major e-wallet providers like Skrill, Neteller and UPayCard out of the US market which is why it would be difficult, if not impossible for local players to find one such digital wallet to use for mobile casino transactions.
Because of this, US players often resort to using alternative payment solutions such as eChecks and bank wire transfers, carried out by MoneyGram and Western Union. This method is less convenient as one is usually required to visit a brick-and-mortar location to initiate the transaction in person. It is also less time efficient since bank transfers are completed after several working days whereas the card deposits go through immediately.
Some of the most popular types of supported cryptocurrency include Bitcoin, Litecoin, and Ethereum. The benefit of resorting to cryptocurrency is that the latter is decentralized and therefore, it is not linked to any particular bank or country. But there are more advantages for US players who top up their accounts with this virtual currency – it is low-cost, enables you to preserve your privacy and anonymity, and there is no chance of having your payment declined.
An increasing number of casino fans from the United States are beginning to rely on the blockchain technology, which has already paved its way into the interactive gambling industry. The majority of mobile-friendly casinos that accept US players offer them the option to use cryptocurrency when depositing or withdrawing.
Available Bonuses at USA Mobile Casinos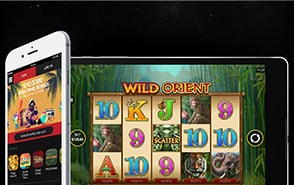 Those of you who have ever visited a landbased casino in Las Vegas or Atlantic City have probably been offered comps in exchange for their action. Well, mobile casinos resort to similar incentives as a way to attract more new customers and retain the action of existing ones. The only difference is that mobile casino bonuses are far more lucrative than those offered in landbased establishments.
Each new US customer at a mobile-compatible casino would be welcomed with a sign-up bonus of some sort. This can sometimes be a no-deposit offer which can be redeemed simply after opening a real-money account. More often than not, US players get the chance to redeem a sign-up bonus that is a match of their first deposit. For example, if a given player is offered a 200% welcome bonus of up to $100 and deposits $50 into their new mobile casino account, the operator would match this sum and the customer would have a total of $150 to spend on bets. Very often such bonuses are offered upon the new customer's first three to five deposits.
But the generosity of US-friendly mobile casinos extends to existing customers as well. They are usually offered reload bonuses on subsequent deposits which work like the welcome offers. Reel spinners are not neglected, either, since they can claim free spins on select games from the mobile casinos' libraries. Sometimes the players would also be rewarded upon referring friends to the casino or are partially compensated for their losses with cashback bonuses.
Those of you who have played at any of the casinos on the Strip, for example, can confirm that customers are usually offered to apply for a player card, especially those who frequent the venue. This is a way for the casino to track players' expenditures on the premises and respectively, reward them for their action with comp points they can exchange for various benefits and gifts. Casinos around the United States are very well familiar with the approach of giving to get something back, so it is hardly surprising mobile gambling operators have also adopted it.
The only difference here is that in USA mobile casinos, you are not asked to apply for a player card but are directly enrolled into the respective operator's loyalty scheme after registration. From this moment on, each real-money bet you place earns you comp points at a specific rate, depending on the casino. You can use these comp points to receive different gifts or exchange them for more free casino credits you can play with.
Before players redeem any bonus at a mobile-friendly casino, it is advisable to skim through the offer's terms. Each bonus has specific conditions players must comply with if they wish to cash out the winnings they have accrued with the free monies. These include the wagering requirements, the validity of the bonus, and the bet limits while free money is in play.
Security at USA Mobile Casinos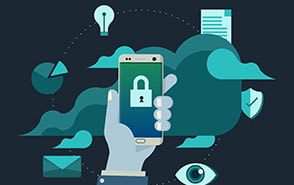 Many inexperienced players from the US question the security at mobile-friendly casinos. While this is understandable because real money is involved, the truth of the matter is mobile-compatible casinos are just as safe as their desktop versions. Gambling operators are subjected to a number of regulatory conditions they need to stick to if they wish to remain in operation and spare themselves the hefty fines that loom over violators.
Registered members who play for real money are required to share some of their personal and banking details, which is why USA-friendly mobile casino applications and websites deploy the best SSL encryptions in order to protect and encode the sensitive data of their patrons.
This establishes trust between the two parties and allows customers to play to their hearts' content without having their experience spoilt by constant worries over security. The same technology is in fact used by financial institutions around the world. Even if a hacker succeeds in obtaining access to the information, they will not be able to actually read it because it is jumbled up by the encryption and has to be decoded first.
You can make sure the USA mobile casino you have chosen is safe to play at by scrolling down its homepage and checking whether there is an SSL certificate stamp at the bottom. Another way to tell whether the casino's mobile website is reliable is by checking for visual cues like the padlock icon in the address bar of your browser. SSL-certified websites may also have their URL surrounded with a green address bar in the user's browser.

Also, licensed mobile casinos that are friendly to US customers would usually protect their best interests by providing them with the opportunity to gamble responsibly. Players are sometimes prompted to set deposit limits for themselves during the process of registration, with the option to choose between daily, weekly or monthly restrictions on payments.
Most casinos are required by their regulators to provide players with the option to self-exclude and willingly ban themselves from accessing their accounts for a specific period of time. Self-exclusion can remain in force for a limited period, like a month, but the player can also choose to self-exclude permanently if they feel like gambling has started to negatively affect their life.