Blackjack is one of the best games to play in a casino, online or in the "real" world and the main reason for that is that in the long term it is the casino game that gives you one of the best chances of winning.
If you don't know how to play blackjack you should check out our game guide, which also contains the key points about basic strategy. However, if you know the essentials of blackjack and just want more info on basic strategy then read on. Alternatively why not play one of the best slots around, Rainbow Riches, or grand yourself a no deposit casino bonus and enjoy casino action totally for free, with no risk to your own money?
What is Blackjack Basic Strategy
In blackjack it is possible to ascertain what is the best decision to make in any given situation according to the cards you have and those the dealer has. Whilst this does not take into account cards that have been "played" previously or those that are visible elsewhere in the table, unless you are card counting, this remains the best possible way to play blackjack.
Basic strategy is 100% accepted as being valid and is scientifically and mathematically proven to deliver the best results in the long term and to keep the house edge – the casino's advantage – down to the lowest possible level according to the rules of the blackjack variant you are playing.
The exact details of basic strategy, that is to say, which decision you should make, varies slightly according to the precise rules you are playing to but you can see a guide below for the most common rules of the game.
You can view and print the Blackjack Basic Strategy Table (PDF version) that is shown below for details on how to play a standard game with 4 to 8 decks and where the dealer stands on a soft 17.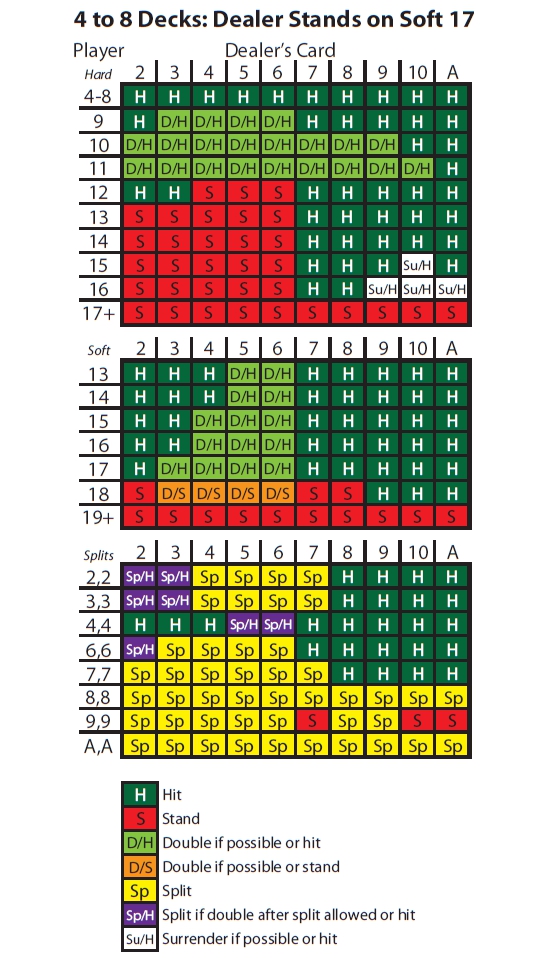 How Can I Use Basic Strategy?
Whenever you play online blackjack we strongly recommend you keep a copy of our basic strategy guide to hand. Alternatively you can find one to suit the exact rules you are playing, with slight differences according to rules on splitting, doubling and so on.
No matter what your instincts tell you, or what you normally do or what you think is best, any deviation from basic strategy will mean you lose more and win less in the long term. Of course, standing on 16 to a dealer's eight may win you the odd hand here and there when the dealer busts but more often than not he will hit the 9, 10 or ace (or make 17 or more through a combination of cards) he needs to beat you.
If you're playing blackjack online then it's easy to consult your basic strategy chart but some bricks and mortar casinos actually provide them to players as a service – the casino knows, after all, that even when a player plays "perfectly", the house retains the advantage.
That said, by using basic strategy you reduce to as small amount as possible the level of luck that you need in order to overcome the house edge, whilst if you are wagering through an online blackjack casino bonus you also give yourself the best odds of walking away with as much as possible of that bonus still in tact.